31st March 2014
New Website Launch
---
Brompton's is proud to announce the launch of our brand new website. Brompton's website has become an indispensable tool to browse our catalogues and reference library. The new website has been developed with the needs of our clients in mind, including the following improvements:
Access Brompton's on your mobile or tablet device
We understand that our clients access information on a wide range of devices, therefore we have optimised our website to perform across pc, tablet and mobile phones. Browse Brompton's sale catalogues, submit valuations or search the reference library; anything you can do on a desktop, you can now do on the move.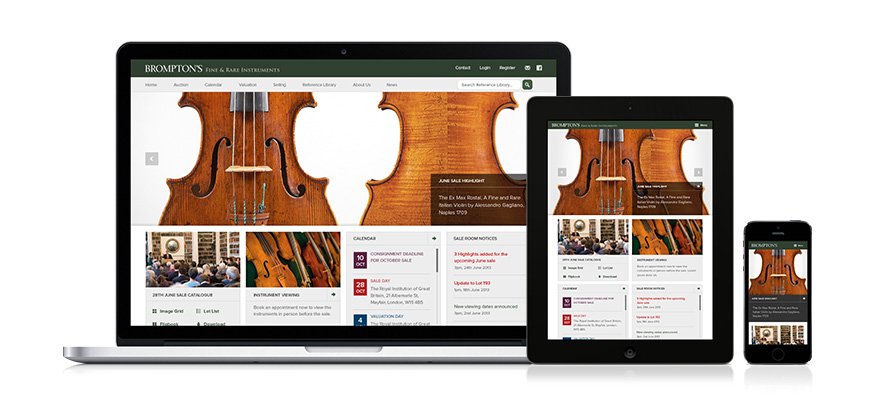 Powerful search and filtering options
Within both the online catalogue and the Reference Library, your ability to find information has been dramatically improved. Located within a very simple navigation menu, you now have the ability to search, filter, order and choose how to display the information at your disposal.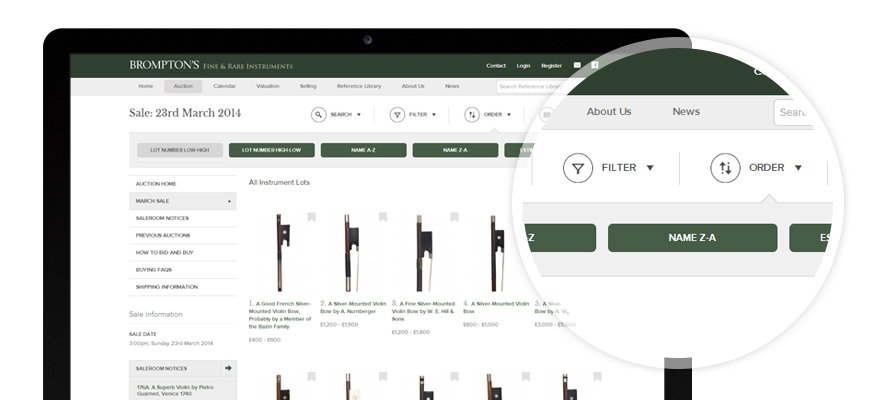 A bigger and better Reference Library
The Reference Library now contains over 44,000 auction results, making it the most comprehensive resource of musical instrument auction results in the world. Our photo archive has also increased in number and now includes bows and woodwind instruments. Combine this increase of information with improved search functionality and the Reference Library is now an incredibly powerful research tool.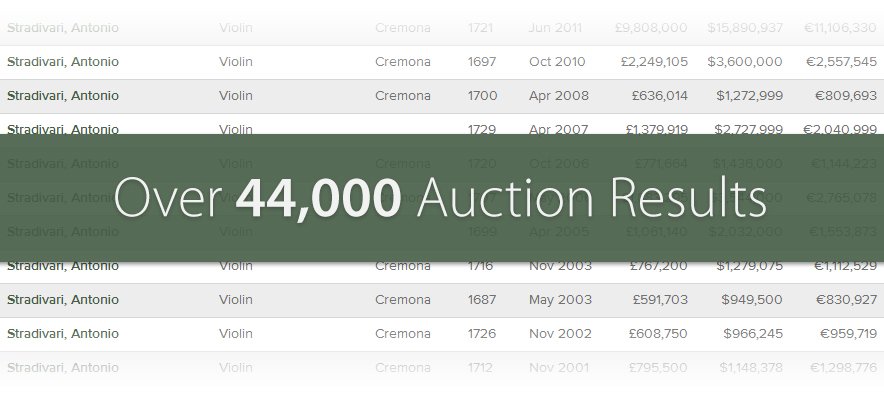 Faster page load
The performance and speed of the website has been increased to optimise your experience.
Improved valuation process
We have given you the option to include much more detail where appropriate when submitting your valuation requests. This will help Brompton's to identify your instrument in a shorter time frame.
Keep up to date
With our 'Recent Updates' notifications on the homepage and within the News area, you can keep up to date with everything that's happening at Brompton's. We'll inform you of any updates to the reference library, valuation days, sale announcements and event updates.
Continual development
We are constantly monitoring performance and making updates to improve the website. If you would like to send us feedback, please email feedback@bromptons.co