National never resumed production of metal-body resonator guitars after World War II, but the Dopyera brothers revived the Dobro line in the 1950s, and eventually set up the O.M.I. (Original Musical Instrument) company to manufacture them in wood and metal. Among its employees in the early 1970s was Don Young, a luthier who had been fascinated by resonator guitars since childhood. Don subsequently left the firm to gain other experience in instrument building and repair, returning to O.M.I. in 1984 as plant supervisor. During his absence, he had met McGregor Gaines, a graphic designer and skilled woodworker, who soon joined him there. The two craftsmen were keen to make improvements to guitar production at O.M.I.; but in 1988, after several of their suggestions were rejected by the management, they resigned and began building National-type designs by themselves.
For three years, Don and McGregor worked together to establish their new business, National Reso-Phonic Guitars, which is based in San Luis Obispo, about 150 miles north of Los Angeles. They built their first instruments in a garage, and were initially restricted to wooden models; the tooling for metal guitars was too expensive, and as McGregor told the author in 1997, "We were definitely lacking in capital. Good ideas don't impress banks!" However, the company's creations found a ready market among National devotees, and by 1992 they were able to begin production of the two classic metal-bodied designs that were to become their biggest sellers: the Style O and the Delphi. Don Young describes these, and National Reso-Phonic's other instruments, as "pretty close, structurally, look-wise, and tonally, to the 1920s- and 1930s-type Nationals. We have definitely made some improvements, but that's not to snub the old stuff - our hats are always off to the old makers, and we're directly linked to the Dopyera brothers."
The company's approach to building resonator guitars involves both hand-crafting and high technology. Nearly all its necks (which once took more than six hours to carve manually) are made using Computer Numeric Control equipment, which carves and frets a single neck in only 12½ minutes, and can make even faster work of milling and radiusing fretboards. Its introduction led to an 80% boost in National Reso-Phonic's production; McGregor Gaines has described it as "a godsend...[and one that] doesn't have mood swings or get cranky in the afternoon!"
In the years since its formation, National Reso-Phonic has satisfied the demands of established resonator players (many of whom now play modern Nationals in preference to their fragile pre-war originals), raised these instruments' profile amongst a new generation of performers, and introduced some exciting new acoustic and electric guitar designs. McGregor Gaines left the firm in 2008, following the untimely death of his wife Marie, National's former Office Manager: it is now run by Don Young and another longtime staffer, Eric Smith.
NATIONAL RESO-PHONIC STYLE O SINGLE-RESONATOR GUITAR, c.1997
One of the company's biggest-selling guitars, this is a recreation (with a striking new finish) of a design introduced in 1929. The nickel-plated brass for its body is made using the formulae and methods developed by the Dopyera brothers at their pre-war National factory.
NATIONAL RESO-PHONIC POLYCHROME TRI-CONE, c.1997
This instrument has an all-steel body, a 1930s-style headstock, and a baked-on 'wrinkle' finish. The neck is maple and the fingerboard is rosewood.
NATIONAL RESO-PHONIC RADIOTONE BENDAWAY, c.1997
A single-resonator guitar with a deep cutaway. Its body and fingerboard are both maple, and the top has a distinctive amber finish.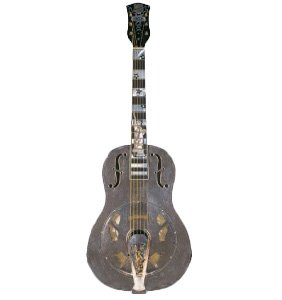 NATIONAL RESO-PHONIC LIBERTY SINGLE-RESONATOR GUITAR, c.1997
A custom model boasting some impressive mother-of-pearl headstock and fingerboard inlays. The figure of Liberty on the tailpiece is gold-plated.
NATIONAL RESO-PHONIC ESTRALITA SINGLE-RESONATOR GUITAR, c.1997
A maple-bodied, walnut-coloured version of a design first introduced by National in 1934. Its fingerboard is rosewood.
NATIONAL RESO-PHONIC COY KOI TRI-CONE, c.1997
Another custom guitar, with koi fish engravings on its brass body, and delicate fingerboard inlays.
NATIONAL RESO-PHONIC RESO-LECTRIC, c.1997
The Reso-lectric has a single, 9½-inch (24cm) resonator cone recessed into its solid alder body. It features two transducers: a Seymour Duncan P90 'soapbar' magnetic pickup, and a Highlander piezo device installed in the guitar's bridge. They are switched and combined via two of the retro-style knobs on the upper bout; the third knob is a master volume control. The instrument's top is made of maple veneer, and it has a hardrock maple neck and rosewood fingerboard.