If you have placed a bid that does not meet the reserve price, you will see the following icon on the lot page.
Reserve not met
This means that even if you are the highest bidder, when the countdown ends you will not win the lot as your bid is not high enough to meet the reserve. To change this you will need to increase your bid to meet the reserve and can do so via the 'Place Max Bid' option as seen below.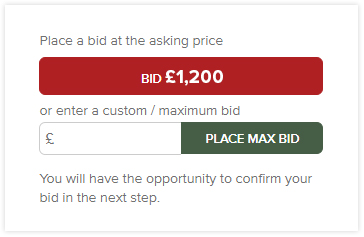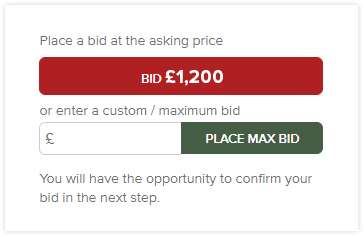 On the lot page, enter the maximum amount you are happy to pay for the lot and click 'Place Max Bid'
A pop-up will appear showing a breakdown of the costs for both the current asking price and your maximum bid.
If you are happy with the prices and agree with the terms and conditions, click Confirm Bid.
The current asking price will then jump to the reserve price as long as your max bid is high enough.
As other people then bid, the system will place a bid for you at the next increment, and will continue to do so until your maximum bid is exceeded. At this point you will be notified that you have been outbid and you will need to increase your bid if you wish to win the lot.
Once the reserve is met, you will see the following icon.
Reserve met