The Electric XII was one of the last models to be developed by Fender's original management. In January 1965, it was announced that the broadcasting and entertainment conglomerate CBS (Columbia Broadcasting System) would acquire the guitar maker's entire manufacturing and sales operation for a purchase price of just over $13,000,000. Don Randall, former President of Fender Sales, became Vice-President and General Manager of CBS's new Fender division; Leo himself was given a research and development consultancy, but took no further part in running his old business, and did not retain an office at its Fullerton headquarters. His reasons for selling were probably related to a bout of poor health during 1964, and to his knowledge that Fender badly needed additional capital. CBS was able to provide this, but its 'big business' approach to management and product development would soon affect the reputation of its subsidiary.
Under the new régime, workmanship and quality control were sometimes markedly inferior; the term 'post-CBS' began to be used to differentiate instruments produced after 1964 from those built while Leo was still in charge; and, over the next few years, key Fender personnel - including Manufacturing Operations Director Forrest White, and (in 1969) even Don Randall - were to leave the firm. Despite such changes and uncertainties, however, Fender Telecasters from 1965 and 1966 differed little from their pre-CBS counterparts, and it was not until a good deal later that any significant alterations to them were made. In 1967 (as described previously), the Tele was rewired to remove its bass boost circuit and allow two-pickup operation, and, the following year, a new variant, the Thinline, was launched. It combined a half hollowed-out body with the standard Telecaster pickup configuration and neck, and remained in production until the late 1970s.
FENDER TELECASTER, 1965
This fine guitar has the same overall specification as a pre-CBS instrument.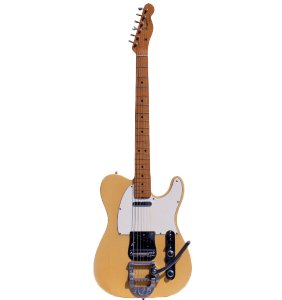 FENDER TELECASTER WITH BIGSBY VIBRATO, 1966
The heavy-duty vibrato unit designed by Paul Bigsby (1899-1968) is perennially popular with guitarists, and from about 1966, CBS/Fender offered it as a factory-fitted extra.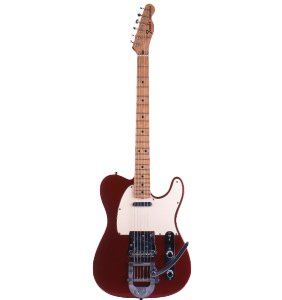 FENDER TELECASTER WITH BIGSBY VIBRATO, 1967

Another 'post-CBS' Tele equipped with a Bigsby vibrato; this one is in Candy Apple Red.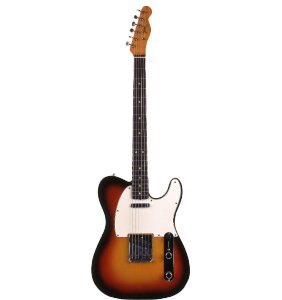 FENDER TELECASTER CUSTOM, 1967
The Telecaster Custom, which first appeared in 1959, has a bound body and an attractive sunburst finish.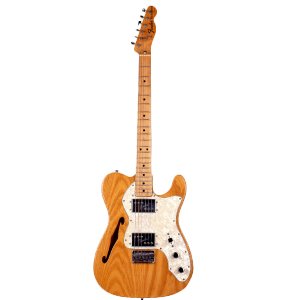 FENDER TELECASTER THINLINE, 1971
The Thinline, introduced in 1968, retains the standard Tele shape, but there is a cavity, topped by an f-hole, on its bass side. Originally, the Thinline was fitted with single-coil pickups identical to the regular Telecaster's, but from 1971 these were replaced by humbuckers (as seen here) designed by ex-Gibson engineer Seth Lover (1910-1997).
The Stratocaster underwent an earlier, more controversial modification: at the end of 1965, its headstock was reshaped and enlarged, to the displeasure of many customers, who felt that the instrument's looks had been spoiled. A cosmetic change affecting all Fenders took place around 1968, when the firm abandoned the use of three-coat nitro-cellulose finishes on its instrument bodies, substituting polyester, which is easier to apply.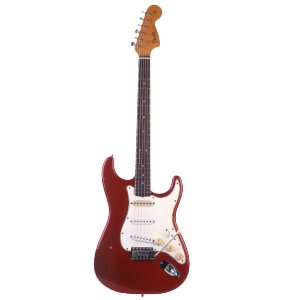 FENDER STRATOCASTER, 1966
This example has a Dakota Red custom finish and an enlarged, post-CBS headstock. However, its lettering, showing the model's name and manufacturer, is smaller and less bold than on the other 1969 Strats with the new headstock also seen here. Fender reverted to a more compact headstock in 1981.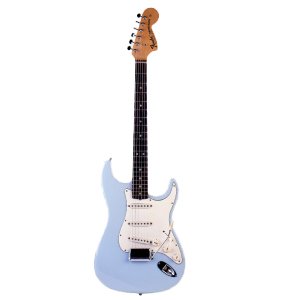 FENDER STRATOCASTER, 1969
This Strat is finished in Sonic Blue, the lightest shade of blue offered by Fender during the late 1960s. The 1969 list price for such a custom colour model was $367: 5% more than the cost of a 'standard' instrument.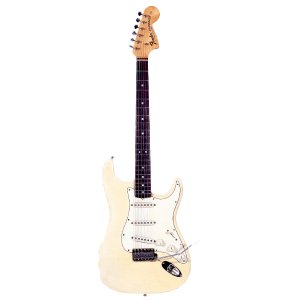 FENDER STRATOCASTER, 1969
Curiously, Leo Fender never registered his company's distinctive 'Fender' and 'letter F' trademarks - an omission that CBS rectified in 1967. Consequently, both this blonde Strat and the blue one adjacent to it carry the ® symbol on their decals.
A new CBS/Fender factory, built adjacent to the original Fullerton premises, opened in 1966. Its extra space and capacity were essential, as the company's product range was steadily expanding. 1968 saw the birth of the Bronco, a single-pickup, double-cutaway solid whose body resembled the pre-CBS Mustang (see above). Both steeds survived in the Fender catalogue until the 1980s. Fender's first hollow-body electrics, the Coronado I and II, debuted in 1966: they were designed by Roger Rossmeisl, who had previously collaborated with Leo Fender on a comparatively unsuccessful range of flat-top acoustic guitars, and is more famous for his work at Rickenbacker. The Coronados, and later Fender hollow-bodies like the Starcaster (launched in 1976) had considerable merits; however, the guitar-purchasing public probably associated Fender too closely with solid electrics to accept them, and none remained available for very long.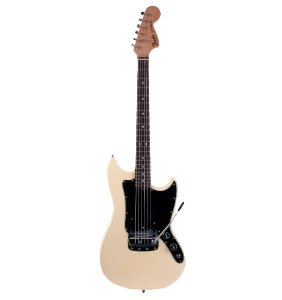 FENDER BRONCO, 1977
Like its two-pickup cousin, the Mustang, the Bronco was chiefly intended for the student market - as were other new products such as the transistorised amplifiers launched in 1967 despite the disapproval of many Fender 'old-timers.'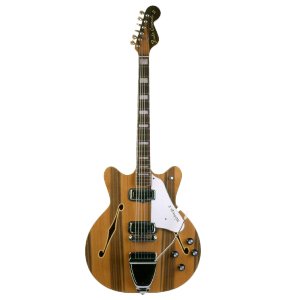 FENDER CORONADO II WILDWOOD II, 1968
The Coronado, Fender's first hollow-body electric, was made in one- and two-pickup configurations, and in a 12-string version. Coronados were produced, for a time, in various shades of 'Wildwood' - a beechwood injected, while still growing, with dyes that created distinctive colourings. The Coronado seen here is in colour number II (green, gold and brown). Wildwood was not itself invented by Fender, but had been developed in Scandinavia.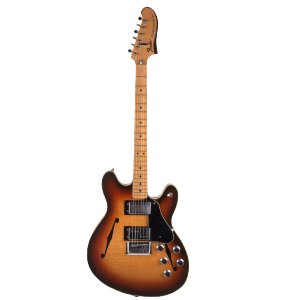 FENDER STARCASTER, c.1976
Unusually for a Fender, the Starcaster has five control knobs - individual volume and tone for each humbucking pickup, plus a master volume. The pickup selector switch visible on the upper treble bout is not the original component.
1980 marked the fifteenth anniversary of CBS's takeover of Fender, and as the decade began, its bosses were faced with serious difficulties. The overall economic climate was bleak, Far Eastern imports were damaging sales, and investment was once again needed to update tools and machinery. Fender's reputation as a manufacturer of high quality instruments was also continuing to suffer - a situation exacerbated by the sometimes-exaggerated reverence for 'pre-CBS' models among some players and collectors. In 1981, CBS hired two senior executives from Yamaha's U.S. Musical Instruments division, John C. McLaren and William Schultz, to lead a new management team that replaced worn-out plant at the Fullerton factory, brought in new models, and - in a radical and far-sighted move - launched a range of lower-priced Japanese-made Fender guitars. These were initially sold only in Japan and Europe, but soon appeared in the United States as well, giving a generation of impecunious young players its first chance to own a 'real' Strat or Tele.
Despite these achievements, however, CBS eventually decided to withdraw from the guitar industry, and it sold Fender to a consortium headed by Bill Schultz in 1985. The newly-independent firm went on to establish a manufacturing base at Corona, about 48 miles southeast of Los Angeles, and some 18 miles east of its former Fullerton premises. This factory has thrived, although less expensive Fenders are made in Mexico and Asia, and the company's headquarters was moved to Scottsdale, Arizona, in 1991. Schultz left Fender in 2005, and died a year later. He was replaced as CEO by Bill Mendello, whose own retirement was announced in June 2010.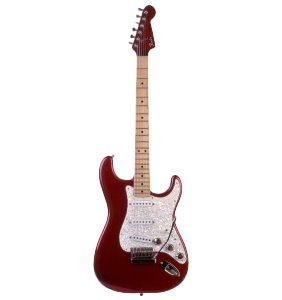 FENDER 'THE STRAT', 1980
This model represented an attempt by CBS/Fender to regain some lost ground with players and collectors. It has gold hardware, its headstock (finished in Candy Apple Red, like the body) is smaller than previous CBS designs, and the neck is attached to the instrument with four bolts, as on earlier Strats; a less stable three-bolt system had been introduced in the early 1970s.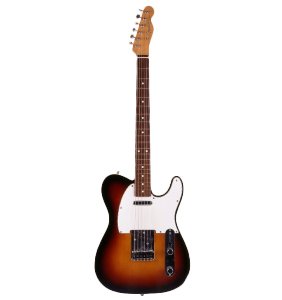 FENDER TELECASTER CUSTOM (made in Japan), c.1985
The Telecaster Custom made its debut in 1959 (see previous example, dating from that year); this reissued version was manufactured for Fender in Japan, and sold at a lower price than U.S.-made Fender instruments. Like its predecessor, it has a sunburst finish, a bound top and back, and a rosewood fingerboard. The Schecter bridge unit, with its six individual saddles, is not original.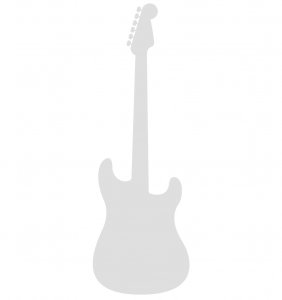 FENDER TELECASTER WITH PAISLEY FINISH (made in Japan), 1986
This Japanese reissue recreates the 'flower power' finish available on the Telecaster during the late 1960s; devotees of the original model included top U.S. guitarist James Burton (b.1939), famous for his work with Elvis Presley and, later, Emmylou Harris.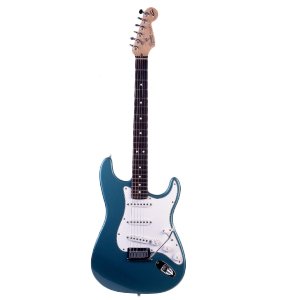 FENDER 40th ANNIVERSARY STRATOCASTER, 1994
A 'special edition' commemorative instrument, with a '40th anniversary' symbol on its headstock, and the slogan "40 years...and still rockin'" engraved on its neck plate.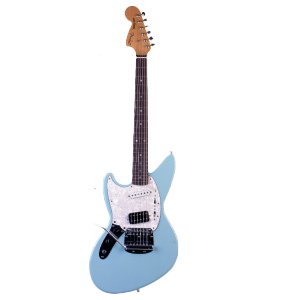 FENDER JAG-STANG (left-hand model), 1997
The Jag-Stang, created for Kurt Cobain (1967-1994) by Fender Custom Shop luthier Larry Brooks, was put into production after the Nirvana frontman's death, and has been sporadically available since. It has a humbucking pickup at its bridge, and a single-coil unit in the neck position. Its vibrato tailpiece and bridge are very similar to the Mustang's; the influence of the Jaguar can be seen in the shape of the bass (right) side of the body. This example is finished in Sonic Blue.