Made In Kalamazoo - Heritage Guitars
Gibson's departure from Kalamazoo, Michigan, in 1984 did not end the long history of guitar making there. A number of the company's employees decided to resign rather than make the 500-mile (800km) move to Nashville, and three senior ex-staffers - plant manager Jim Deurloo, plant supervisor Marvin Lamb, and J.P. Moats (who had been in charge of wood purchasing, repairs, and custom orders) - made plans to continue fretted instrument production in the town. Together with former Gibson accountant Bill Paige, they acquired premises and machinery from their previous employers, and set up their own business, Heritage Guitar Inc., in April 1985.
Heritage's workforce was initially drawn from ex-Gibson craftsmen who, like the founder/owners, had chosen to remain in Kalamazoo, and the company is steeped in the Gibson/Kalamazoo tradition: its headstock logo, "The Heritage", is an echo of "The Gibson" trademark used on its predecessor's pre-war instruments, and several of its models are strongly influenced by classic Gibson designs. At first, Heritage manufactured basses, mandolins and banjos as well as acoustic and electric guitars, but the firm now concentrates solely on electric guitar making. It has developed some outstanding 'signature' instruments: an early endorsee was Ten Years After frontman Alvin Lee (b.1944), whose personal Heritage model boasted a Gibson ES-335-like body and a special three-pickup system, featuring two humbuckers plus a single-coil transducer. For several years, Heritage also produced an electric/acoustic floating-pickup design endorsed by jazzman Johnny Smith. (Smith's guitars had previously been made by Gibson - see Part 7 of the article on the company; he later moved his endorsement to Guild/Fender - see Guild and Robert Benedetto articles.)
Among the major names currently associated with Heritage instruments are country music veteran Roy Clark (b.1933), and metal/jazz virtuoso Alex Skolnick (b.1968). Its combination of expert craftsmanship and extensive customer choice has brought it considerable prestige, and it seems likely to succeed in its stated aim of creating "the collectible guitar of tomorrow."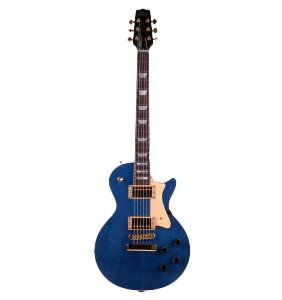 HERITAGE H155, 1998
This guitar's shape and pickguard design are subtly different from those of the instrument that inspired it, the Gibson Les Paul. The H155 has a solid, carved body with a maple top, and two humbucking pickups; the example shown here is finished in opaque blue.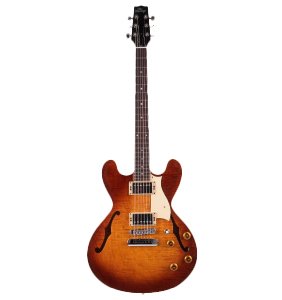 HERITAGE PROSPECT STANDARD, 1998
The Prospect, introduced in 1991, is a 15-inch (38.1cm) semi-hollow model with a laminated curly maple top and back, and a mahogany neck. The guitar has a body depth of 1.5 inches (3.8cm), two humbuckers, and an almond sunburst finish. Heritage's current 'Prospect STD OSB' has a similar specification.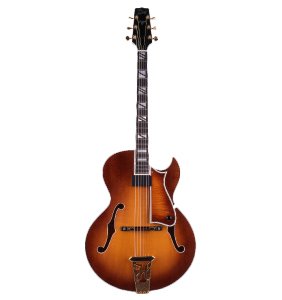 HERITAGE SWEET 16, 1998
As suggested by its name, this is a 16-inch (40.6cm) model - a genuine 'semi-acoustic,' with a depth of 2.75 inches (7cm). The pickguard carries the volume control, and supports the 'floating' pickup, which does not touch the solid spruce top. (Pickups installed directly onto the top inevitably compromise an instrument's acoustic sound.) The guitar's back and sides are made from curly maple, and the inlays on the headstock and ebony fingerboard are mother-of-pearl. The Sweet 16 remains in production at Heritage's Kalamazoo factory.