Charvel, Grover Jackson And The 'Soloist'
During the late 1970s, a new generation of virtuoso American rock guitarists was emerging. It included Eddie Van Halen (b.1957), born in Holland but brought up in California, who, as a teenager, formed a band called Mammoth with his brother Alex, a drummer. The group was renamed Van Halen in 1973: its debut album appeared five years later, and Eddie quickly gained a reputation as a lightning-fast, intensely dramatic soloist who demanded the utmost from his instruments. He and artists like him found basic Stratocasters and other off-the-shelf models inadequate for their high-octane playing, and turned to custom shops and individual craftsmen to obtain 'axes' that answered their needs.
By the end of the decade, Eddie Van Halen was using stripped-down, single-pickup guitars with Strat-shaped bodies and powerful vibratos. One source for these hybrids was Charvel Manufacturing - named after Wayne Charvel, who had run a repair and customising firm in Azusa, California, but had sold it in 1978 to his former business partner, Grover Jackson. This company's aim to provide musicians with instruments that exactly matched their requirements was set out in one of its early catalogues, which stated that "Charvel Mfg. believes very strongly in individual tastes...[and there are] absolutely no color or design limitations." However, in 1980, Jackson was approached by Californian rock player Randy Rhoads (1956-1982) to build a hot-rodded V-shaped guitar, and, according to Jackson/Charvel expert Robert Lane, was "hesitant to use the Charvel logo on [it] because of its wild shape and contours." The problem was solved by placing Grover's own surname on the headstock, and creating the first-ever 'Jackson' guitar. Randy Rhoads had recently become lead guitarist for British heavy rocker Ozzy Osbourne, and his high-profile use of the new V-shaped solid led to substantial demand for Grover Jackson's instruments.
The following year, Jackson produced the first prototypes for what was to become a hugely successful new model, the Soloist. Officially introduced in 1984, it combined a so-called 'Superstrat' shape with the 'neck-through-body' design used on the custom Rhoads instruments (see caption for further details). Two Jackson Soloists are featured here, together with the Flying V-influenced KV1.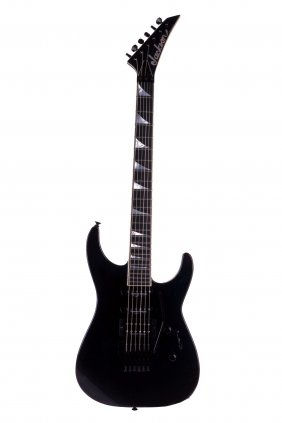 JACKSON SOLOIST SL1, 1998
The Soloist has a Stratocaster-like outline, although the horns that form its cutaways are more pronounced than the original's, and there are other obvious differences. The instrument's neck section, which runs through the centre of the body, is maple; the 'wings' on either side are poplar. ('Neck-through-body' construction was famously used on Les Paul's 'Log': see Gibson article.) The Soloist is fitted with two Seymour Duncan humbucking pickups, and a Floyd Rose vibrato unit that allows dramatic effects.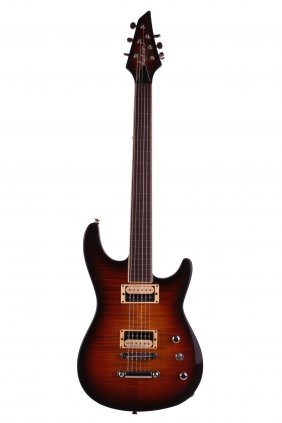 JACKSON SLS (SOLOIST SUPERLITE), 1998
The Soloist Superlite is about 25% thinner, and therefore considerably lighter, than the original Soloist. Its body and neck are mahogany, with a slightly contoured flamed maple top and a bound rosewood fingerboard. The pickups are made by Seymour Duncan.
JACKSON KV1, 1998
Jackson's publicists once described the 'King V' (to give this model its full name) as "a guitar only those with a certain edge to their personality can understand." It shares the 'neck-through-body' construction of the other instruments shown here, and has Seymour Duncan pickups.
Randy Rhoads, who commissioned the first Jackson guitar, died in a flying accident while on tour with the Ozzy Osbourne Band in March 1982. However, his advocacy of Grover Jackson's instruments encouraged many other hard rock and heavy metal players to adopt them. Among those to do so was his replacement in the Osbourne band, Jake E. Lee, who played Strat-like Charvels; endorsees for Jackson's own-name guitars have included Phil Collen of Def Leppard and Anthrax's Scott Ian. The Rhoads guitar remains in Jackson's catalogue in a variety of configurations and finishes; in 2010, the firm marked the thirtieth anniversary of its creation with a series of limited edition models. Its design had received a more startling 'makeover' fourteen years previously, when the radically reshaped Roswell Rhoads appeared. As its name and space-age appearance suggest, this instrument was inspired by events in Roswell, New Mexico, where a UFO and its crew of aliens are alleged to have landed in 1947. Its fingerboard inlays are modelled on another mysterious manifestation - the 'crop circles' that sometimes appear in cornfields. Original aluminium-bodied examples of the Roswell Rhoads like the one in our photo are now collectors' items. Grover Jackson sold his firm in 1989, and in 1997, it was acquired by the Japanese electronics company Akai; but since 2002, it has been part of the Fender Musical Instruments Corporation. The marque is flourishing under its current ownership, and its guitars continue to display the boldness, striking styling and supreme playability to which Charvel and Jackson themselves were so strongly committed.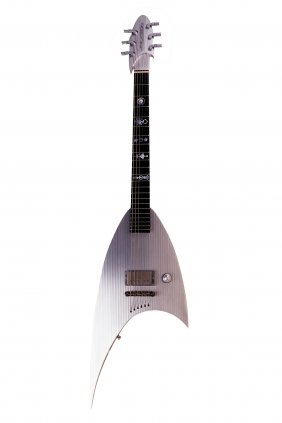 JACKSON CUSTOM SHOP ROSWELL RHOADS, 1996
This remarkable guitar has a body and headstock made from aircraft-grade aluminium alloy. The neck is maple, with an ebony fingerboard, and the 'crop-circle' inlays are mother-of-pearl. The instrument is fitted with a single high-output humbucking pickup made by Tom Holmes, and its locking tuning machines were built by Bill Turner of LSR Tuners in Chino, California.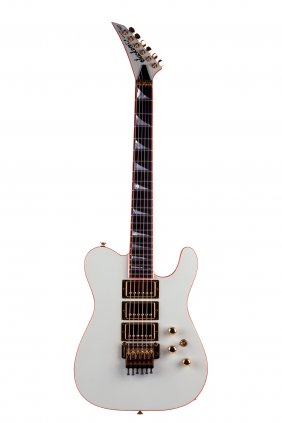 JACKSON CUSTOM SHOP 'TELECASTER'-TYPE MODEL, 1998
A 1990s 'take' on the Tele that would have raised some eyebrows at Leo Fender's workshop! It has three humbucking pickups, a Floyd Rose vibrato (whose 'whammy bar', which would be inserted into the socket on the right of the bridge, has been removed for this photograph), and a locking nut to improve tuning stability when using it. Note the reversed headstock, with the tuning machines facing away from the player.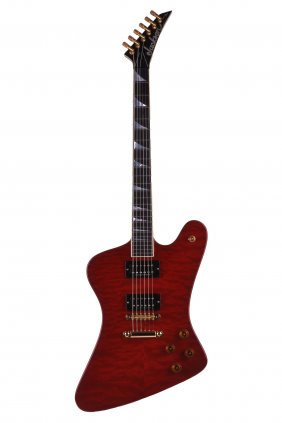 JACKSON CUSTOM SHOP FIREBIRD, 1998
The Gibson Firebird was one of the neck-through-body designs that inspired Grover Jackson at the start of his career. Jackson's own 'FB' models take the original concept a few stages further. The example shown here has a reverse-body shape, with the right-hand (treble) horn larger than the bass one, but a standard, non-reversed headstock. There are two humbucking pickups, and the tuning machines, like those on the custom Roswell Rhoads, are locking LSRs.