John Lott, celebrated in life and fiction, is probably the best known of English violin makers. His full name was John Frederick Lott II, and he born in 1804 to a violin maker of German parents, John Frederick I. His father was born in England in 1776, and worked for John Dodd in 1798, before establishing his own Covent Garden shop before 1835. John Frederick II, or Jack Lott as he came to be familiarly known, began work for Richard Davis, who ran a violin shop in Coventry Street, and also sold his own work through Dodd while his father still worked there. But in 1823 he gave up making violins in order to travel. His adventures were subsequently turned into the novella 'Jack of All Trades' by Charles Reade (1858), and the colourful adventures described in it, while difficult to unpick from the truth, are meant to give a fair impression of Lott's eccentric character. He did find work as an elephant trainer in a circus, and accompanied the animal to America as well as continental Europe. He married his wife Jenny and had his first child, Henrietta, in Geneva. In the early 1840s he returned to London with his family and to the violin trade, and opened his own shop in Wardour Street, where he seems to have remained until his death in 1870.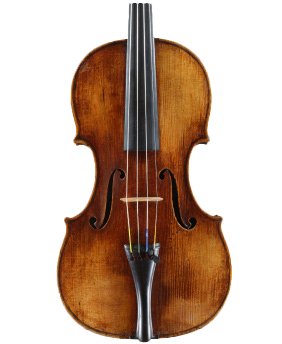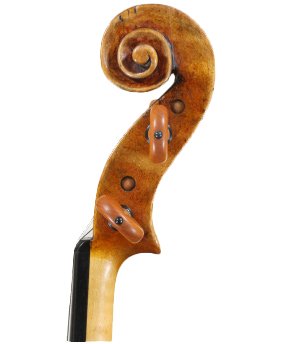 His work is best represented by his imaginative copies of Guarneri del Gesu. Imitation 'aged' work was becoming very fashionable in the early nineteenth century, pioneered by the Fendt family in London, whom Jack and his father would have known well, and by J.B.Vuillaume in France. Lott was in fact a close acquaintance of Vuillaume, his knowledge of French, picked up in Geneva, enabling him to work as Vuillaume's agent in London on several occasions. A great boost to this production of antiqued copies of Cremonese instruments was the celebrity status of Paganini, whose Europe-wide tours since the 1830s had provoked huge interest in his magnificent Guarneri, nick-named 'the Cannon'.
Lott's copies were freer than most, combining the various eccentricities of Guarneri's work in new ways, rather than following the more academic approach of Vuillaume. He also made copies in his own style of Amati and Stradivari, but the hell-for-leather approach of del Gesu himself seems to have been most suited to Lott's own personality.
Although showing a complete mastery of technique, Lott's instruments are made without any particular debt to the Cremonese methods and approach. The pine linings are simply butted against the blocks and he often neglected the pins that invariably appear in the back plates of Cremonese instruments. His varnish is most definitely not the same as that of the great eighteenth century masters, but he knew how to imbue it with a reflective fire that made it quite comparable in certain ways, and his instruments are rarely less than dramatic in appearance and sound.