We now know a great deal about Michele Deconet, through archival researches in Venice, but there remains a considerable mystery about the circumstances of one of the most apparently prolific of Venetian makers.
He was born in Kehl, near Strasbourg, in 1713. By his own account, at the age of 14 he enlisted as a soldier, and after two years in Paris, spent several years on the road before arriving in Venice in 1732, where he remained for the rest of his life. He made his way from France as a violinist and singer, and he is recorded in the Venetian archives as a 'sonadore', or musician. By 1744 he had already entered his second marriage in Venice, and appears to have been well established, and from that point on his labelled instruments start to appear. The difficulty arises from his transition from musician to maker, and it has been suggested that he never did make instruments himself, but merely leant his name to the work of others, acting in an entrepreneurial manner.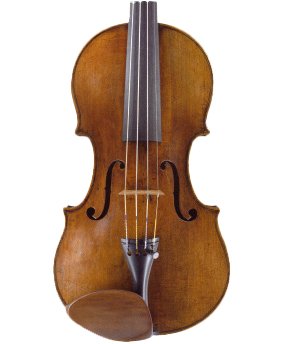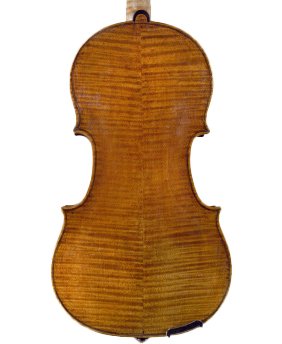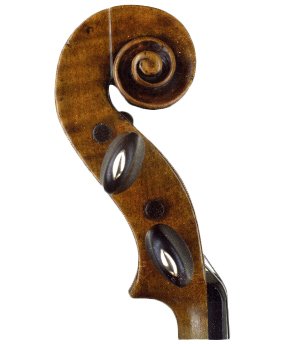 However, the body of work attributed to him shows a recognisable consistency of style, which develops significantly throughout his long productive life. No other maker in the well-researched and documented records of Venice can be confidently put forward as the 'dark eminence' behind Deconet's considerable output. Technically and stylistically there are features that relate his early instruments very strongly to Pietro Guarneri, who worked in Venice until 1762, and he is the most obvious candidate to be Deconet's teacher. Most notably, Deconet consistently used the small central interior pin in the backs of his instruments, which is generally a signifier of the particular process used by the Guarneris and other makers closely associated with the Amati family. No other Venetian makers made use of this device as far as we know.
The early Deconet instruments are very beautiful, with an Amatise delicacy of form and a typically rich Guarnerian varnish in the grand Venetian style, full blooded red in colour, with great depth and texture and often a profuse craquelure. This style belongs to the classical school of Venice, of Guarneri, Gofriller and Montagnana, but it was slipping away in the second half of the century. As with other contemporary makers, Deconet's varnish gradually became harder, thinner and reduced to a monochromatic tone of yellow or red. At the same time, the lightly defined workmanship- small edges and slender scrolls, cut with less precision than taste, also became bolder and heavier, in much the same manner as Balestrieri and others working elsewhere in Italy at this time.
Throughout his life, Deconet's instruments can be recognised by the cutting of the scroll, which has a well-formed spiral sometimes extending a little further around the eye than usual, but terminating in a narrow knife-cut which makes the eye appear a little crushed and awkward. The throat is cut short, but opened up with a wide chamfer beneath the front face of the volute. The overall chamfer is generally quite narrow and a little uneven. His archings are generally low, but scooped in from the edges with an elegant recurve. Soundholes are very Amati-like, set a little close together and distant from the edge, and generally lacking any fluting in the lower wing. His purfling is consistent too, having particularly slender black strips, with an irregular mitre which sometimes extends right to the end of the short corners in the German manner. The materials do vary though, and maple and poplar are both found in the white centre layer.
Large pins, set well within the purfled edge, locate the plates to the upper and lower blocks, and the interior work is generally constructed of pine. The corner blocks are noticeably broad, but the linings are not morticed in. His labels are straightforward, stating Michele Deconet/ Fecit Venetiis. Anno- , but at least one instrument has a handwritten inscription 'fatto da me Michele Deconet', and another very specifically gives 'Settembre 1764' as the date of manufacture.
Deconet continued working until 1780 at least, and married for a third time in 1777. In 1790 he was registered with the Venetian guild of musicians, having previously been excluded because of his inability to read music. He died in 1799, leaving two sons, Giuseppe and Antonio, who also registered with the musician's guild, but have left no evidence of any involvement in violin making. By this time, the craft had declined dramatically across Italy, a circumstance generally blamed on the availability of cheaper made imported instruments. Only a handful of good makers remained in Venice into the nineteenth century.