An 'alembic' is defined in the dictionary as "anything that refines or purifies;" more specifically, it was the vessel in which medieval and Renaissance alchemists combined the base metals they sought to transmute into gold. A different kind of alchemy is practised at Alembic, Inc., of Santa Rosa, California, which produces fine instruments for some of the world's leading performers. Its General Manager, Mica Wickersham Thomas, explains that the company name (together with its distinctive trademark) "has become for us the symbol of purity - and one of our primary goals is purity of sound."

Alembic was founded in 1969 by Mica's parents, Ron and Susan Wickersham, who are still key figures within the company. Ron, an electronics engineer, had a background in broadcasting, and subsequently became closely involved with the development of multi-track recording systems, while Susan was a successful artist. Their new firm shared premises near San Francisco with the city's legendary rock group, the Grateful Dead, and was responsible for much of the band's audio technology - including its innovative (and massive!) PA system, and the 'active' pickups used by bassist Phil Lesh, and guitarists Jerry Garcia and Bob Weir.

In 1974, after several years combining electronics and instrument design with studio management and live recording work, Alembic decided to focus solely on making guitars, basses, and pickups. Its instruments have always been strikingly different from those of more mainstream manufacturers. While standard electric guitar pickups are 'voiced' to create a characteristic tone-colour that cannot be substantially modified, Alembic transducers deliver a clean response that musicians then tailor to their needs by the use of active on-board filters, whose roll-off parameters are carefully chosen to sound 'natural' and musical. The resultant range of sonic possibilities gives players a uniquely versatile tool with which to realise their ideas. As Ron Wickersham puts it: "Rather than handing a musician something and saying, 'We have this great inspiration, and if you take our instrument, you'll be famous just like somebody else,' we do the opposite; the musician is free to come to us, and we don't try to talk him out of his dream." As well as tonal variation, Alembic's customers (past and present) have sought low background noise and freedom from electrical and radio-borne interference - often difficult to achieve onstage when using powerful amplification at high volumes. Ron Wickersham's experience with broadcasting technology has helped him meet their needs, and, during Alembic's early years, his love for rock music and commitment to giving its creators the best possible instruments contrasted starkly with the attitudes of other technical experts, who, in Ron's words, regarded rock as "a fad - something people wouldn't need good tools for."

Alembic's instruments are aesthetically as well as sonically outstanding, and the firm is famous for its finely crafted instrument bodies - whose layered woods inspired their affectionate nickname 'hippie sandwich.' It enjoys especial acclaim for its bass guitars; prominent users of these have included jazz-rock musician Stanley Clarke, who bought his first Alembic bass in 1972, Jack Casady of Jefferson Airplane, Mark King of Level 42, and the late John Entwistle of The Who. However, it also makes the more outwardly conventional 'California Special' 6- and 12-string models (described in its catalogue as "like old friends, but more refined"), in addition to a range of high-performance pickups that can be fitted to other manufacturers' guitars.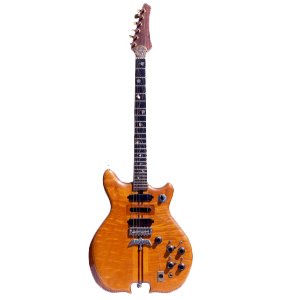 ALEMBIC PROTOTYPE, 1971
A 'one-off' instrument made for John 'Marmaduke' Dawson (1945-2009), guitarist with the New Riders of the Purple Sage, and a close associate of the Grateful Dead. In these early days, the company was effectively a 'custom shop,' and formal model designations did not exist.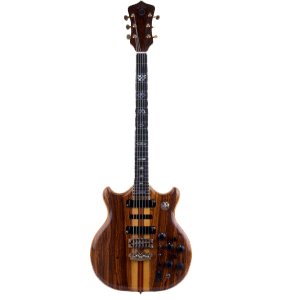 ALEMBIC SERIES II, 1972
This guitar was created (for English rock star Greg Lake, of Emerson, Lake and Palmer) when model names had only just been introduced at Alembic, and there was still considerable variation between individual instruments. Lake's Series II is slightly thicker than more recent examples, and its electronic circuitry is mounted on the right of its body; later Alembics have their electronics split between both body halves.
ALEMBIC SERIES I 12-STRING, 1978
The top and back are made from figured purpleheart (a tropical rainforest wood native to Central and South America), and the body has a mahogany core. The guitar's neck is purpleheart and maple, with an ebony fingerboard, and its distinctive knob-shaped headstock is also found on Alembic's 8-string basses.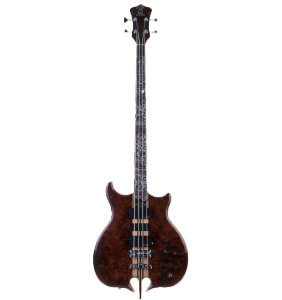 ALEMBIC 25TH ANNIVERSARY STERLING BASS, 1997
This limited-edition instrument (only 25 were made) commemorates 25 years of bass building at Alembic, and the firm's co-founder, Susan Wickersham, was responsible for the selection of woods and other materials for the guitar. Its metal parts are sterling silver, its top and back are made from 15-year old Brazilian burl rosewood (now a protected species), and the neck is maple and ebony.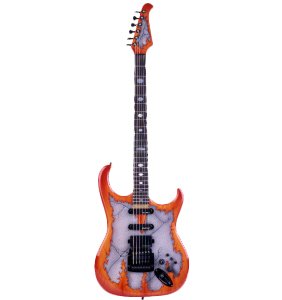 ALEMBIC CALIFORNIA SPECIAL, 1998
The California Special retains the neck-through-body construction found on most Alembics, but its solid maple body and slightly Strat-like overall shape are, to quote the company's publicity, "perfect for those situations when the 'hippie sandwich' might not be appropriate." It has two single-coil pickups in the neck and middle positions, and a humbucker at the bridge. The custom finish on this example was the work of Alembic's Eric Coleman.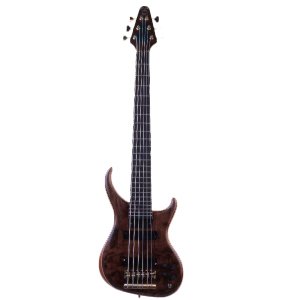 ALEMBIC ORION 6-STRING BASS, 1998
A bass with a cross-grained maple set neck, instead of Alembic's more usual neck-through-body design. Its body has a mahogany core, and is available with a range of top laminates; the fingerboard is ebony. Its four knobs control volume, pan (blend between the pickups), treble and bass.