Leo Fender's designs stimulated demand for the electric guitar at all levels. His 'flagship' models attracted professionals and serious players, while his student instruments were priced within reach of reasonably well-heeled beginners or their parents! But by the mid-1950s, even cheaper electric guitars and amplifiers were readily available, thanks to the buying power and marketing muscle of America's premier sales catalogue company, Sears, Roebuck, and Company.
Sears had been selling musical instruments since well before World War I, and in 1954 it launched its first solid-bodied electric 'Spanish-style' guitars. (The term 'Spanish' denotes a guitar intended to be held upright in the arms; 'Hawaiian' guitars are placed horizontally on the player's lap.) They carried the firm's 'Silvertone' label, but came from a number of sources, such as Harmony and Kay (both located in Chicago; Harmony had been purchased by Sears in 1916), and innovative New Jersey-based designer/manufacturer Nathan Daniel (1912-1994). Daniel had been Sears' exclusive amplifier supplier since 1948; his company, Danelectro, also produced equipment for a number of other leading wholesalers.
The earliest Silvertone solids had poplar bodies; Daniel made them in single- and double-pickup versions, and soon began selling similar models under his own 'Danelectro' trademark. In 1956, he changed the design and construction of his guitars. The second generation of Silvertone/Danelectros still had poplar or pine 'frames'(sides, necks and bridge blocks), but were mostly hollow inside: for each guitar's top and back, Daniel used a 3/8 inch (9.525mm) layer of Masonite, a cheap hardboard material made from woodchips. The guitars' finish and hardware were also highly unconventional; their sides were coated with Naugahide (a durable plastic more familiar as a chair-seat covering), and their metal pickup covers were made from surplus chrome-plated lipstick tubes.
Nathan Daniel fashioned these odd ingredients into strikingly effective designs. One of his Silvertone guitar outfits featured an amp and speaker built into the instrument's case, while his Danelectro and later Coral ranges offered innovative body shapes, and even a hybrid sitar guitar developed in partnership with top session player Vinnie Bell. Sadly, Daniel's company went out of business in 1969, but vintage Danelectros have been popular with many leading musicians, including Mark Knopfler, Led Zeppelin's Jimmy Page, and the late Syd Barrett from Pink Floyd. Reissued Danelectro models are now available from the California-based Evets Corporation, and since the mid-1980s, Jerry Jones Guitars of Nashville, Tennessee, has been making high-quality reproductions of the Danelectro line.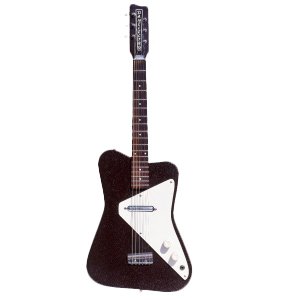 DANELECTRO PRO 1, c.1965
The Pro 1 has an unusual 'bow-tie' outline not found on any other Danelectros, and is fitted with a single 'lipstick-tube' pickup. The model was introduced in 1963, and stayed in production for the remaining six years of the original company's life.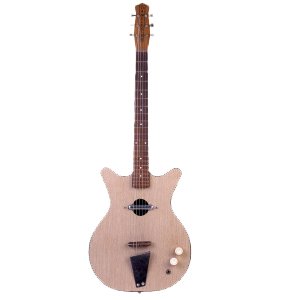 DANELECTRO 'CONVERTIBLE', EARLY 1960s
As its name suggests, this ingenious guitar is designed to be equally suitable for electric and acoustic playing, with a single pickup fitted across its soundhole. It has the distinctive double-cutaway 'Shorthorn' body shape first used by Nathan Daniel for his Danelectros and Silvertones in the late 1950s.